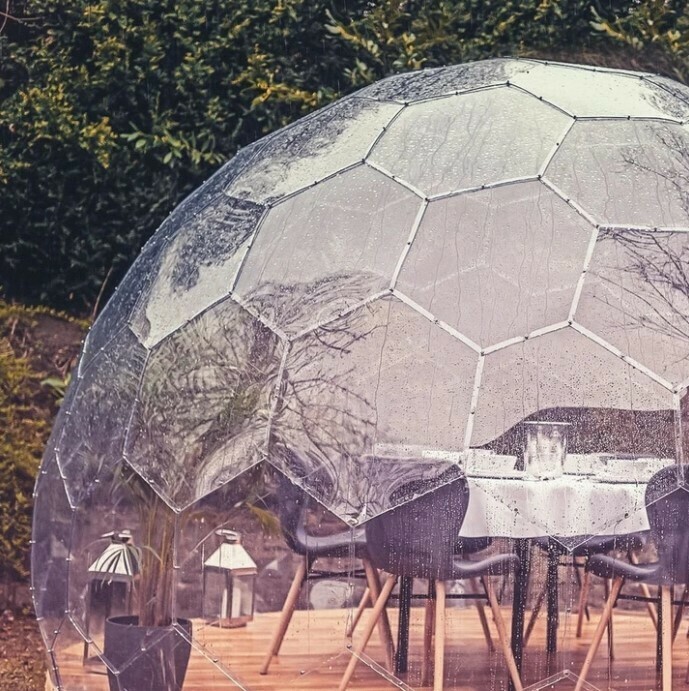 HYPEDOME S
SKU HypeDome S
Product Details
Completely transparent, UV-protected, frameless yet very robust - meet the new HypeDome S.
Create your own indoor-outdoor space with this amazing kit ready for self-assembly.
Tech Specs: Base area: 10 m2 / 108 sq ft, Diameter: 3.6m / 11.8 ft, Height: 2.3m / 7.6 ft

Volume: 12 m3 / 430 ft3 Circumference length: 11.3m / 37 ft
Recommended capacity: up to 6 - 8 people seated at a table/sofas/chairs, 10-12 people people standing next to cocktail tables

What's in the box: 100+ numbered & letter-coded UV-protected polycarbonate panels, complete set of screws and cap nuts, aluminium entrance frame kit, rollable membrane zip door, deck screws or ground anchoring pins (upon request), Assembly Toolkit: ratchet socket, screwdriver bits, hex key (allen wrench), Installation & Maintenance Manuals + Warranty Card, Cleaning Kit incl. micro-fiber cleaning cloth, Openable ventilation panel (optional), Sail shade (optional)
Assembly: HypeDome requires two people and takes on average 4 hours to complete. All tools and manuals required for assembly are provided together with the kit. You will need a 1.5m tall ladder during the assembly and dismantle. You can derig/dismantle the dome when required, store it in provided boxes and build it again in the future.

Warranty: HypeDome is covered with a 2-years warranty against any manufacturing defects. Expected lifespan of the HypeDome is at least 15 years.
To keep it in a good shape clean it with a lukewarm water and cleaning kit provided.
Save this product for later