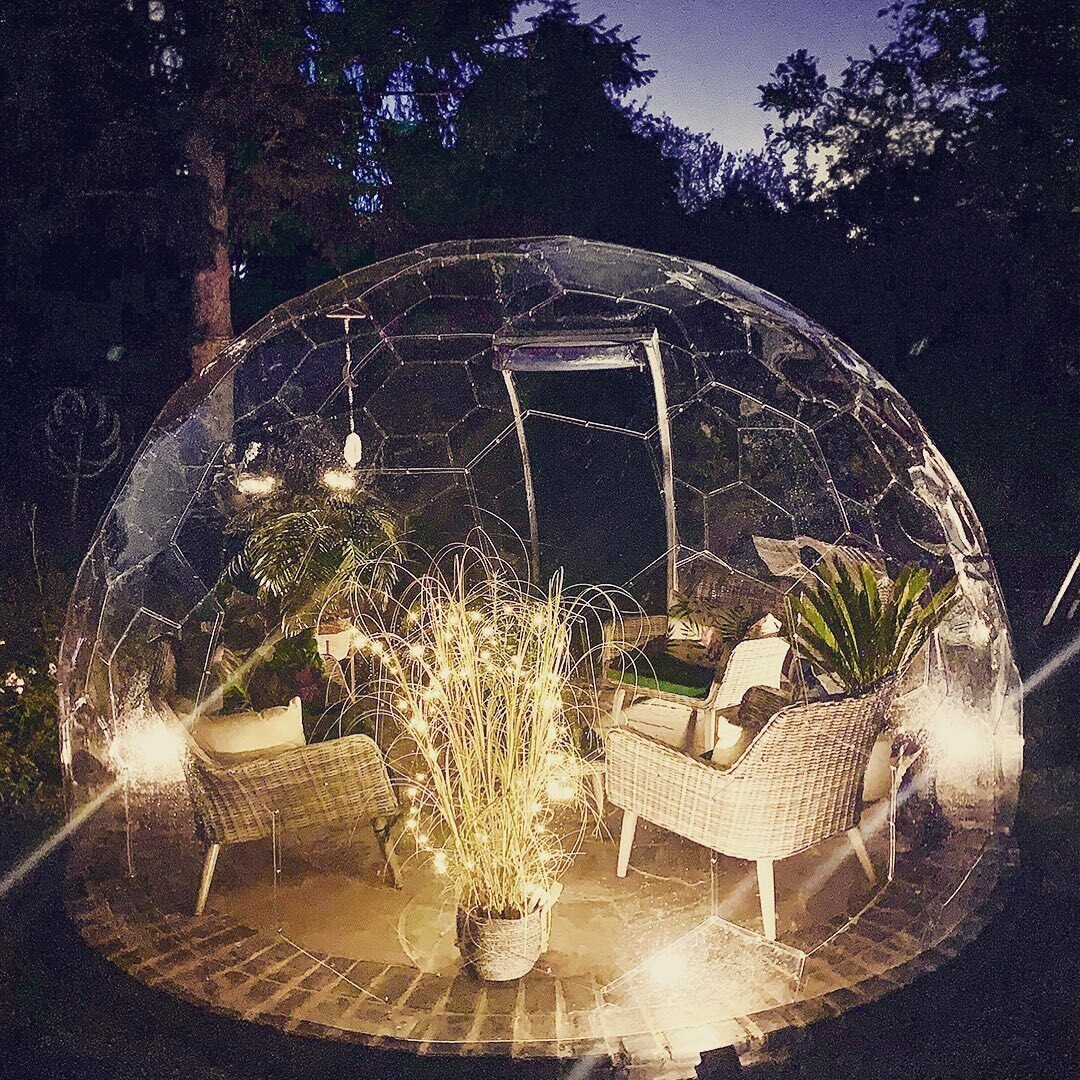 HYPEDOME Lighting Kit
SKU Hypedome Lighting
Product Details
What's included: 1x Neon RGB LED Light, covering the total length of Hypedome's perimeter (minus door opening). This flexible lightstrip provides a beautiful, diffused glow in a wide range of colours. It can be easily controlled via an iOS/Android app or with an included remote to change light intensity, colours, preset styles or schedule on/off states.
1x Table Lamp, cord-free, rechargeable lamp. It's a great way to illuminate a dining table or a coffee table inside the Hypedome. It's dimmable and provides 9 hrs of continuous, warm light. It comes with a charging station.

1x Set of Fairy Lights, creating great ambience and magical lighting effects. Fairy lights are on very thin wire and there's 10x separate wire-ropes of them with tiny lights embedded. They can be easily arranged e.g. hanged from the very top of the dome with provided eye-nuts or placed along the hexagonal panels.
Tech spec: Neon RGB LED Light - Dimensions: 10m (Length), 10mm (Width), 18mm (Height), Color: RGB (adjustable),Number of LEDs: 800, Input Voltage: AC 110-240V, Output Voltage: DC 110-240V, Power Consumption: 120W (max), Weather Protection: IP20 (power supply), IP67 (LED strip), Control: Remote (Infrared), iOS/Android App (Bluetooth), Plug: Mains
Table Lamp: Dimensions: 38cm (Height), 11cm (Diameter), Color: Warm White, Number of LEDs: 1x 2.2w Array, Voltage: DC 5V / 1A USB, Battery: Built-in rechargeable 2200 mAh Li-Ion Pack (charging base provided), Cordless Operation: more than 9 hours on fully charged battery, Weather Protection: IP54, Control: Capacitive touch switch, Plug: USB (Mains adapter provided)
Fairy Lights: Dimensions: 3m (Length), 3m (Width), 2.5m (Cable Length), Color: Warm White, Number of LEDs: 300, Input Voltage: DC 5V / 1A USB, Power Consumption: 5W (max), Weather Protection: IP44, Control: Remote (infrared), Switch, Plug: USB (Mains adapter provided)

Neon RGB LED Light requires connection to the mains.

Fairy lights can be powered with the provided power adapter or USB power bank (not included). Usage length depends on the capacity. For example 10 000 mAh can power fairy lights for up to 10 hours.

Table lamp features built-in 2200 mAh rechargeable battery, good for over 8 hours of usage. It includes a charging base that can also be powered with USB power bank.

Lighting kit includes either UK, EU or US/CA standard power plugs and adapters. We ship each type depending on the country of destination. Let us know during checkout if you wish to order different type of plug than one used in your country.

Save this product for later