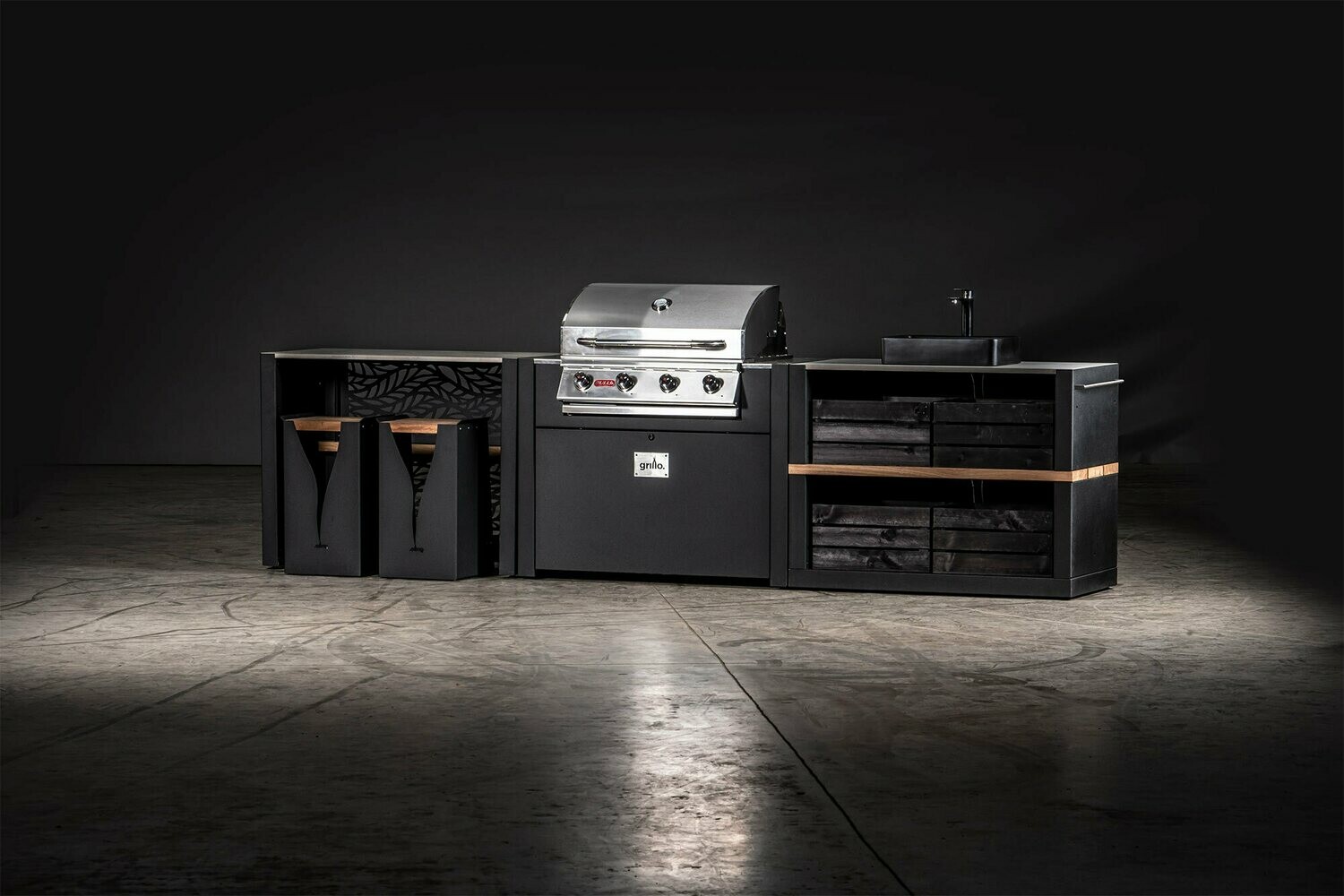 Grillo Vantage Outdoor Kitchen - Layout S0600
SKU Grillo S0600
Product Details
GRILLO VANTAGE
Grillo Vantage is a new design-led kitchen range, blending iroko hardwood with beautifully finished carbon steel. The design is a true statement which takes its cue from the original Grillo Forge kitchen – beautiful, clean and simple. However the darker colours of the Vantage give it a more contemporary sleek feel, blending in to almost every environment.
LAYOUT S0600 FEATURES:
2 x Stainless Tool Rail
Tarn Sink Suite
Vantage Cabinet with Signature Rear Fascia and Open Frontage
4 x Ebony Storage Crates
Vantage Gas BBQ Station with Signature Rear Fascia
Vantage Bar Table & Stools with Habitat Rear Fascia
MATERIALS:
CARBON STEEL
Vantage is constructed from beautifully finished, heavy-gauge carbon steel. Built to out-last the British weather, stories will be told around this kitchen for generations to come.
IROKO HARDWOOD
Iroko hardwood is inlaid throughout this design-led kitchen. A very durable, low maintenance hardwood, the natural feel of Iroko creates a great contrast to the steel.
PORCELAIN
Exceptionally strong, hard-wearing, UV, frost and stain-proof worksurfaces finish the kitchen. They have a beautiful matt finish and an attractive polished concrete appearance.
DELIVERY AND INSTALL
Grillo Vantage is A FULLY INSTALLED PACKAGE
Grillo trained fitters will build your kitchen up in a pre-agreed position.
They will then remove all waste, and leave the site clean and tidy.
Price includes delivery and assembly service (offer applies to all Mainland UK addresses)
Connecting services is not included.
Save this product for later